Hiring a Forensic document examiner just might be the right decision for you depending on how I can help your case. I offer document examination, signature analysis, handwriting analysis, and expert testimony in court. With years of experience, I can help your case if it involves document examination or suspected forgery of signatures or documents. Learn more about my process and how you can get the best service from me.
Know What to Expect
If you already have a document in question or in litigation, I can help. After analyzing the documents I can give you an honest opinion about your case. I'll give you my suggestions on what your next steps should be. I can usually provide a verbal opinion of your case within a 48 hour time period after examining the documents in question. My fees are clearly laid out and $495 will start your case. There are never any hidden fees or other such charges.
Provide the Right Kinds of Documents
For a thorough and accurate examination of your documents, I will need the right kinds of documents and exemplars. I always like to see originals, but in this day and age that is not always possible. So original or even a high quality photocopy, preferably a 1st generation copy, is best! With certain copies, I may not be able to be as thorough in my examination. Copies, even good quality ones, do not copy traits from the original handwriting. Copies will not capture the ink used, the pressure of pen strokes, and other minute details of the original documents with handwriting.
In order to make a thorough examination, I really prefer to have 20 or more exemplars of documents. 10 is ok, 15 is good, but 20 is ideal. I want to give you the most thorough service that I can and a large part of that is the quality and amount of exemplars that I have for comparison.
The results of a document examination are often limited or expanded by the quantity and quality of the documents and other evidence provided. With the right evidence, cases can many times be solved out of court with a document examiner's official report. Cases that do go to court can benefit from expert court testimony from a document examiner that is qualified. Read what one of my clients had to say:
Kathy Carlson is amazing! As Plaintiff's counsel in a recent arbitration, the firm's representing the claimants determined to hire a document forensic analyst. We did a fair extensive search, and finally settled on Kathy. BEST DECISION EVER! Kathy was amazing. In the pre-trial activities, her reports, analysis and explanation were spot on.

What was even more impressive was her trial testimony. It felt like she was cross-examining defense counsel rather than the other way around. Most impressive to me however, was Kathy's willingness to actually take a stand. So many experts want to opine on the possibilities rather than actually saying "this is a forgery." Kathy was careful, collected, detailed, and after walking down the entire road actually made the call.

Verdict was in our favor and was more than six figures. Kathy was a large part of why that happened.

Thank you!

— Justin Heideman
Allow Enough Time
In most cases, I can get you my verbal opinion within 48 hours. But the time required for a full examination of your case may vary. It can take longer or shorter depending on the evidence I have to work with, the complexity of the case, and other cases I may currently be working on. I'll use various methods and techniques to examine even the smallest details of the documents in question. This ensures that I can provide an accurate opinion of your case and get you the best results.
When I have all the documents and other pieces of evidence, I will analyze it both individually and as an entire body of evidence. Gather all of the evidence that you can at once. If more pieces continue to slowly show up for examination, it can delay the process. Sometimes I may request more evidence or exemplars. If you think you've provided everything you can, try to think of other places where documents and writing may be such as in books or other old momentos. I can provide you with a list of over 100 places to attain suitable material for comparisons – which I can go over with you during a consultation. Make sure you do your homework in providing me with everything I need! This ensures that I can get started on your case right away and give you an accurate examination of the provided materials. You deserve to get the best from your forensic document examiner.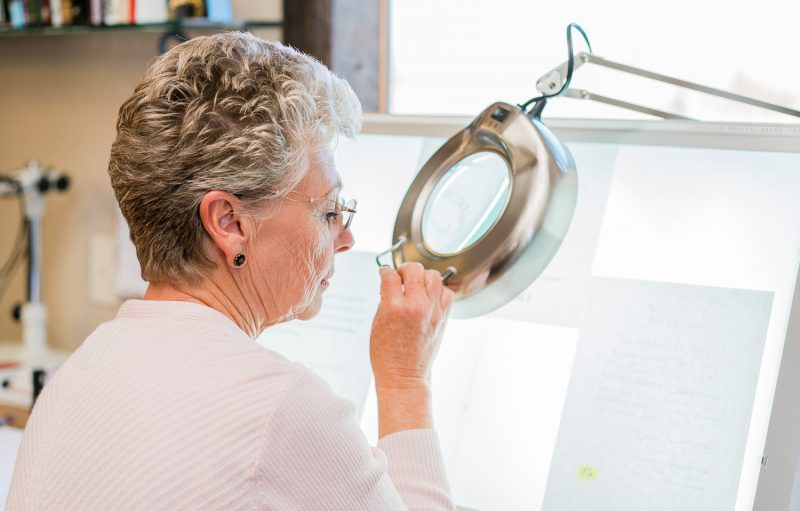 Could your case benefit from the expertise of a document examiner? Contact me to learn more about all of my services including handwriting analysis, signature analysis, and expert testimony in court.